Gaming Laptops
Up to 60% discount and almost 3000 products on sale in the two weeks Black Friday of PcComponentes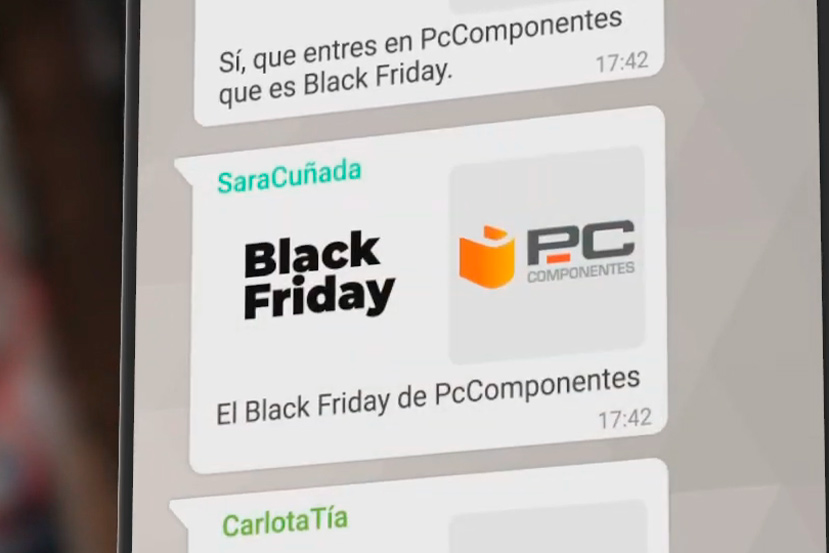 Starts on Black Friday en PcComponentes with discounts of up to 60% on selected items, this year they will offer two weeks complete with Black Friday discounts, a total of almost 3,000 discounted products. In addition, every day between 9:00 a.m. and 10:00 p.m. a series of flash offers in addition to the daily discounts will be uncovered.
Along with the daily offers and discounts on almost 3,000 items, at PcComponentes they are going to carry out raffles with interesting prizes Throughout these two weeks of Black Friday, you will have to be attentive to the social networks of PcComponentes to participate.
We selected the best offers in each category to share them with you so that you can take advantage of the best discounts:
Monitors
The LG 27UL550-W monitor has a 27 "screen and 3840×2160 4K resolution, its brightness is 300 cd and 5 ms of response, the panel is IPS with a refresh rate of 60 Hz that had a price of 349 euros it stays in 249,99 euros, with a discount of 28.37%.
Another 27 "monitor on offer is the Samsung C27RG50FQU, FullHD with a refresh rate of 240Hz and curved screen is great for gamers, plus es compatible con G-Sync. This monitor drops from 305 euros to 249,99 euros with more than 18% discount.
Also on sale is the Samsung LC49RG90SSUXEN monitor with a 49 "screen and 5120×1440 resolution inches in 32: 9 format, the panel is QLED and HDR1000 with 1000 nits of maximum brightness. Its refresh rate is 120 Hz and offers very complete functions that of 1099 stays at 799.99 euros 27.21% less.
The 31.5 "Gigabyte G32QC monitor with 2560×1440 resolution and curved panel also has a very good price. has 165 Hz refresh rate and a brightness of 350 cd, in addition es compatible con HDR Vesa Display HDR400of 429 stays at 319.99, more than 25% discount.
Memoria RAM
The RAM memory kit of Corsair Vengeance RGB Pro DDR4 a 3600 Mhz 2x8GB CL18 in white, drops from 114.99 to 79,99, a 30.44% discount.
Also the Kingston HyperX Fury Black RAM kit from 2x8GB DDR4 a 3200 Mhz and CL16 is with more than 17% discount, drops to 57.99 from 70 euros.
Hard drives
To store your data and make everything go faster you have the Samsung 970 EVO Plus 1 TB NVMe with 3500/33300 MB / s read / write speed, which of 247.99 down to 149 euros with almost 40% less in its price.
Base plates
There is a Gigabyte on offer with the chipset x570 To take full advantage of the new Ryzen 5000, the Gigabyte x570 Aorus Elite with PCIe 4.0, many USB and up to 128 GB of RAM, from 199.90 euros it reduces its price to 159,90 euros, this is 20% less.
Laptops
If what you are looking for is a gaming laptop, you have the Asus ROG Strix G17 G712LW-EV047 with a Intel Core i7-10875H, 32 GB de RAM, 1 TB de SSD y la RTX 2070 in 17.3 "screen with 600 euros discount, from 2,099 down to 1,499 euros, cutting its price by 26.1%.
With a little less budget we also have the Asus X571LI-BQ208 which has a Intel Core i5 10300H, 16 GB of RAM and 1TB + 256GB of SSD, graphics mount a GTX 1650Ti and its screen is 15.6 ". You can find this for 749 euros from the 899 it cost, 16.7% less.
Mice
Very good deal for the veteran Logitech G502 hero Special Edition, a mouse that has updated its model to the 16.000 DPI and has weights to adapt your weight to your liking. Now you can buy it for 39,99 euros it is down 60% from 99.99 euros.
More economical and with 4200 DPI which is not bad at all, you have the MSI Clutch GM08, a gaming mouse that you can get for only 11.99 euros from the 24.99 it cost, more than a 52% discount.
Keyboards
To complement your gaming mouse you have the Razer BlackWidow Elite keyboard with Switch Green propios de Razer, Can be yours for only 99.99 euros, 44.45% less from 179.99 of its usual price.
Another keyboard that is reduced to 19.99 euros is the Logitech K400 +, a wireless keyboard that incorporates a touchpad, ideal for remote control of small equipment, TV Box or the television itself. It has been reduced by 33.33% from its previous price, which was 29.98 euros.
But it does not end with these two weeks full of offers, next November 30 PcComponentes will fill Monday with Cyber ​​Monday offers. Take advantage of these good prices to renew or acquire new technological products, you have a lot of product reviews in our section.