Mouse
The best wireless mouse to work for quality price in 2022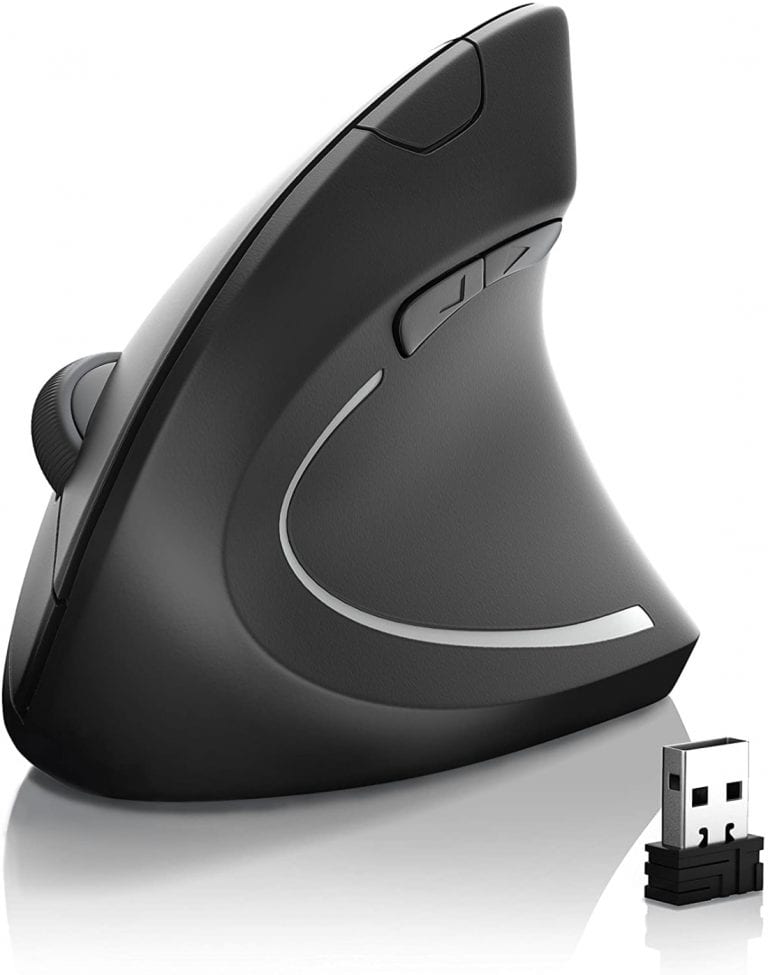 What is the best wireless mouse for money in 2022? If you need a comfortable mouse to work with that does not have cables, you are surely looking for wireless mice. We have selected the best premium options and also the cheapest on the market.
Logitech has always been known for making very good mice, and the truth is that it has several wireless mice that are the best you can buy right now. You won't go wrong with this brand.
The selection focuses on two very specific models. One very cheap, the Logitech M720 Triathlon, and another 3 from the Logitech MX Master series , the MX Master, MX Master 2S and MX Master 3.
That said, we are also going to recommend you which is the best wireless mouse for quality and price… we are going for the cheapest wireless mice that are worth it , and we have found 3: Logitech M185, the CSL TM137U and a VicTsing model. They all have a funny price, in case you want to save a few euros on your next mouse.
What is the best wireless mouse? The Logitech M720 Triathlon is a cheap, ergonomic, and bomb-proof connection option. You can not ask for more…
But you can't miss … the wireless mice from the Logitech MX Master range. The  Logitech MX Master descends from other flagship mice such as the MX Revolution or the MX Performance, and has clearly surpassed them in good characteristics. Logitech already said that "it was the best mouse of all time" and it is not misguided. It is one of the most ergonomic Logitech mice.
This model from Logitech, the

MX Master

, is still one of the best options as a wireless mouse, only now there is a second version, the 

Logitech MX Master 2S

, where they have further refined the good features of the first model.

We will discuss its pros and cons at the end of the post. Best of all?

The second-hand MX Master is cheaper right now.

And in 2020 we also have a third version, the

Logitech MX Master 3

… improving on the two previous versions.
Thanks to Dark fi eld Laser technology, this mouse works on any surface, from glass to wood to metal. It is sensitive, precise and smooth. Let's see if the MX Master is the best wireless mouse of the moment.
What do you need to look for in a good mouse to work?
How do I connect a wireless mouse?
Like wireless computer keyboards, wireless mice usually offer two ways to connect to your PC or Mac: through 2.4 GHz Wi-Fi connectivity with a dongle that you put in your computer in a USB port or through Bluetooth connectivity that does not require extra connected hardware. to PC or Mac.
Usually, the connectivity through the dongle is usually more stable, but it will depend a lot on the good work of the company that made the mouse. In contrast, bluetooth offers longer battery life in the mouse and the possibility of connecting it to devices that do not have a USB port, such as a smartphone or tablet.
Normally, if you connect your wireless mouse to the computer to charge it via a cable, the mouse will become a wired mouse that works perfectly. An advantage in certain situations, such as when starting the computer.
How do you charge a wireless mouse?
Another reason to choose a wireless mouse or another. They can be charged using a USB A or USB-C cable connected to the network or to the computer (they have an internal lithium ion battery like that of mobile phones or tablets) or you have to put some Triple AAA or Double AA batteries (they are usually found in the low-cost or mid-range mice).
It will always be better to choose a mouse that can be charged with a simple cable that you can connect to your computer whenever you want. The battery life of the batteries will last you many months, but it would always be interesting to use rechargeable batteries.
Mouse customization apps
Another point to take into account when buying these mice is whether they offer applications to customize the operation of buttons or even how it works with certain computer programs.
It can also allow you to turn the mouse lights on or off or change its sensitivity or dpi. Gaming mice use these types of customization programs and earn a lot of integers with them. In working mice you will find fewer customization options, but they can also be interesting to use with certain programs such as Excel.
Mouse ergonomics
Another very important thing. Normally high-end mid-range mice have very good ergonomics and will protect your wrist from possible injuries due to a lot of use. Right-handers usually have no problem finding a good mouse, something that left-handers do not. Most mice can be used by both, but right-handers tend to have an advantage.
Mouse sensor
Something very important in gaming mice, but not so much for work-dedicated mice. Make no mistake: we don't want them to be very low dpi, but as a general rule, all manufacturers offer good dpi on their devices. From 2,000 or 3,000 dpi up is fine (if you only use it for work).
Number of buttons
You don't want too much and you don't want too little. Between 5 and 7 buttons is the correct amount to work comfortably with your mouse. The important thing in this case is that the buttons are comfortable to use and are well placed.
What is the best wireless mouse?
1.-Logitech M720 Triathlon
---
Easy-Switch technology: M720 Triathlon pair with up to 3 computers 

With buttons that resist up to 10 million clicks

Logitech Options software to enjoy all the possibilities and adapt it to your requirements on Mac OS, i Pad OS and Windows.

24-month charged on a single AA battery
It fits most hands, the battery lasts forever, and the buttons can be easily programmed. And all for a really reasonable price. What else can you ask for for this price?
The connection can be made via bluetooth or via an included USB dongle, something really convenient and translated into the language we all know means that the possibilities of losing the wireless connection are practically non-existent… Doesn't bluetooth work for you? You use the USB dongle and that's it (or vice versa).
And by pressing a single button you will be able to use the mouse on up to 3 devices. And you can use the Logitech Flow option to be able to move the mouse pointer between multiple connected devices.
In addition, it has 8 programmable buttons that you will be able to easily customize using the Logitech Logi Options software.
All its buttons are easily accessible, and the truth is that they are very useful once you configure them to your liking. They give you quick access to some of the actions you use the most.
The only downside is that it doesn't work on glass (the following models do) … but everyone uses the mouse on a mouse pad, right?
2.-Logitech MX Master o Logitech MX Master 2
---
Characteristics:
With 2 wheel buttons: smart wheel button with adaptive speed and thumb wheel button for horizontal scrolling.

Can be used with three computers

Can be used on any surface, even glass

Connects via included Logitech Unifying receiver or via Bluetooth

Compatible with Windows and Mac

With rechargeable battery with a duration of up to 40 days.

Right-handed mouse.

Dimensiones: 85,7 mm x 126 mm x 48,4 mm

Weight: 145 grams
The Logitech MX Master is a high-end mouse, and that shows when we see the large number of fully customizable buttons or wheels available. It has a built-in rechargeable battery that can last up to 40 days on a single charge, and best of all, the mouse can continue to be used while charging with a micro-USB cable.
Its ergonomics are really good, thanks to the fact that the mouse mold was made from a design based on a real hand. As soon as you have it in hand, you notice that its materials are premium. It's nice to hold it.
This mouse is compatible with Windows or Mac and can be connected wirelessly via an included Unifying receiver or via Bluetooth. With Bluetooth you can pair the mouse with up to three devices and switch between computers with a button on the bottom of the mouse.
Using the Logitech Options software, we can customize all the mouse buttons. And what about Mac users? You will find support for all trackpad gestures: they can be duplicated on the MX Master.
It is possible that the thumb wheel button is a bit strange at first and we do not take full advantage of it, but it is only a matter of getting used to its use.
One of the most important buttons on a mouse is the scroll wheel, and in the case of the MX Master this wheel has adaptive speed scrolling: The wheel button automatically changes from click-to-click to super-fast scrolling. Its scrolling is really smooth and precise, something that clearly justifies the price of the mouse.
The only thing we are going to have to do is get used, with a little time, to all its options and functionalities.
Make no mistake, it's an expensive mouse, but the Logitech MX Master is worth its price in gold. If you are a design professional or spend many hours in front of the computer using office software, you deserve to have the best possible device.
It is also perfect to use on any surface and with different computers at the same time. For Apple Mac users, it is the perfect replacement for the Magic Mouse. Its design is very ergonomic, it is comfortable, and it is clearly one of the candidates for the best wireless mouse. It is worth your purchase. It does not disappoint in any way.
Best Wireless Mouse: Logitech MX Master vs.

MX Master 2S
Differences between these wireless mice? Right now the best purchase option is the new model, the MX Master 2S, due to its best features.
---
Flow: Control of several computers (up to three).

Copy / paste text, images and files between computers.

Darkfield High Precision Tracking

Up to 4000 dpi

Enhanced Power Management (Rechargeable): Up to 70 days before recharging

Three minutes of charge for a full day of use.
The MX Master 2S has a longer battery life: 70 days vs 40 days and has a higher dpi: 4000 vs 1600 dpi of the original. This will be especially important if you are going to use it to work on a 4K screen. In addition, it has Logitech Flow: you can control several devices and copy-paste content and documents between computers. It is available in three colors.
After testing it for about 6 months, we recommend dark colors, especially the graphic, since the white model begins to appear spots of use on the side where we place the big finger of the hand. Possibly this dirt / discoloration appears in all the models of the use, but in the dark colors it is less noticeable.
For the rest, just comment that the software is updated every few months, and that there is no problem in configuring the mouse via bluetooth or via the Unifying connector that comes with it. The battery life of the mouse is tremendous, and it is very comfortable to charge it even when we are using it (the connector is on the front, something that the Apple Magic Mouse does not).
Using this model in an iMac, from time to time we have lost the bluetooth connection, something that is solved using the Unifying connector, thus avoiding interference with other devices.
Its purchase is highly recommended for both Windows and MacOS computers. 
3.-Logitech MX Master 3
---
Speed, precision and silence of the electromagnetic scrolling with the Magspeed wheel button up to 90 percent fast

Work comfortably with an optimally contoured shape and with a thumb button and controls positioned in the optimal place.

Accelerate your workflow thanks to the easy customization of MX Master 3 to optimize every action

It works on three computers;

seamlessly transfer cursor, text, and files between Windows, MacOS, and iPad OS

Works on any surface, even glass with the 4,000 dpi darkfield sensor;

it is faster and five times more accurate than the basic mouse.
The latest version of this great mouse. It improves a few things over previous models.
First of all, the design is more ergonomic, it adapts better to your hand and is therefore perfect for working long hours with it.
It has 4000 dpi, so in this section it is the same as the previous ones, but it offers more options to improve your productivity such as being able to work on 3 computers at the same time.
And most importantly: it finally has a USB-C port and supports fast charging: what a blessing.
If you already have the Logitech MX Master 2S it's not worth upgrading, but if you're buying the mouse for the first time, go for the latest model, the Logitech MX Master 3 .
What are the best cheap wireless mice?
The 3 previous models are very good, but maybe you don't want to spend so much money on a wireless mouse. We recommend the cheap options that are worth it.
The three selected models have a good sensitivity, and in some it is even possible to change the dpi (better response to movements).

A sensitivity of around 1000 dpi is usually perfect for the average user.
1.-Logitech M185 Wireless Mouse
---
2.4 GHz wireless Plug and Play connection 

One year battery

With USB receiver

Works with Windows, Mac, Chrome OS, and Linux
Very cheap wireless mouse and perfect to carry around (it is used a lot with laptops). Its radius of action is 10 meters. It can be used with both hands and the battery lasts 12 months (normal battery and AA current). It has an on / off button at the bottom.
The resolution of the sensor is 1000 dpi, has 3 buttons (with wheel) and weighs about 75 grams. Its dimensions are 3.8 x 9.9 x 6.1 cm. Simple and very reliable.
2.-CSL TM137U – Optical mouse with vertical shape for better ergonomics
---
USB 2.0 and optical sensor

1000 to 1600 dpi sensitivity 

5 buttons and scroll wheel

Dimensions: 7.5 x 6 x 12 centimeters

Weight of 151 grams
Do you need a wireless mouse that takes care of your wrist? Do you need a cheap model with good ergonomics? This CSL mouse is perfect if you have pain in your wrist or elbow.
This mouse allows a neutral wrist and arm position … and not twisted as it happens when working with a traditional mouse. 
It has an off button at the bottom and a receiver that must be connected to the computer's USB port. Uses 2 AAA batteries.
3.-HP Z3700 RF – 1200DPI Wireless Optical Mouse 
---
2.4 GHz wireless connection

16-month battery life from a single AA battery

Compatible con Windows Vista/7/8/10, Mac, ChromeOS.

Weight of 50 grams.

Dimensions 10.1 x 6 x 2.5 cm.
A very cheap wireless mouse model that has a tremendous battery life (up to 16 months).
Its dimensions are 10.1 x 6 x 2.5 cm and it has a small compartment to store the USB connector.
The design is successful, but it is quite flat, so you will have to get used to it. As it is so flat, it can be used by both right- and left-handed people.
The buttons respond well and the wheel is smooth. It is perfect for laptops. It has only 1200 DPI, but it is very cheap.