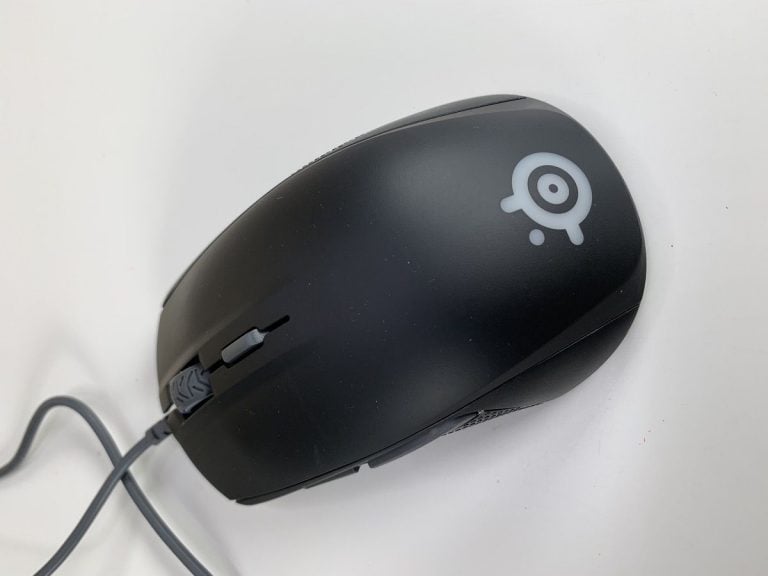 Interested in the SteelSeries Rival 110 gaming mouse? We have been testing it these last weeks and we have the review ready. What do we think? Let us quickly tell you in this SteelSeries Rival 110 review.
It has 6 buttons, 7200DPI, LED lights, macros and a minimalist and very ergonomic design. Its drawbacks are few being so cheap. You want to know more? Keep reading.
SteelSeries Rival 110 – Review and Opinion
Features and Software
---
Optical gaming mouse, RGB illumination, black
TrueMove1 Custom Optical Sensor, 7200 CPI, 240 IPS, 30g
Universal shape with 6 buttons for the right hand
Left / right buttons guarantee 30 million clicks
Lightweight, ultra-durable materials that reduce weight to 87.5 grams
Compatibility: OS – Windows, Mac and Linux.
Requires USB port
Software: SteelSeries Engine 3.10.12+, for Windows (7 or newer) and Mac OSX (10.8 or newer). Not available on Linux
As soon as you connect the mouse, the first thing you should do is install the SteelSeries software to configure its different aspects, SteelSeries Engine 3. It is available for Windows and Mac. For Linux it cannot be installed, but the mouse works perfectly (we have tested it on a laptop with KDE Neon – Ubuntu based).
The software is quite intuitive and you can easily configure the sensitivity (2 DPI options) or the operation of the 6 buttons and the scroll. You also have the option of editing macros and changing the color of the LED to your liking (fixed or with certain variations in the logo and the wheel). You can save different settings for different video games.
To our surprise in a mouse as cheap as this, you will find a specific section for acceleration and deceleration (to adjust the speed with which the cursor moves), prediction and response speed, which is set by default in the 1000Hz, but that you can go down to 500Hz, 250Hz or 125Hz.
This mouse also has built-in memory, so your settings are saved from one PC to another. With the software you can access the different profiles.
Design
As you can see in the image, it is a simple, ergonomic design that adjusts very well to all types of hands. Mine is quite large and handles quite comfortably, although if it is true that if you have a very large hand, this mouse will be small and it may be too light.
The top of the mouse is matte black, while the buttons and scroll wheel are gray. The lateral areas are black with a certain texture that helps to hold the mouse. The upper part is somewhat bulky.
It has two buttons on the left side, a wheel and a button on the top to change the DPI, and the two typical buttons of all mice. They are all programmable. The wheel has a toothed rubber that gives a very good grip for scrolling. It costs something to press it.
It is not usual for the wheel to also have light in mice as cheap as this one. In this case it lights up together with the logo.
The cable as you can see in the following image is really long, very, very long, about 190cm.
How Does The Rival 110 Perform In Video Games And With Multiple Screens?
The truth is really good. For a single screen I have left it set to 1200 DPI and for multiple displays (3), I have always set it above 4000DPI so that the mouse pointer goes from one to the other quickly.
For games of sniper (sniper), you should go down to 200, 300 DPI, but for everyone else video game, a setting of about 3500, 4000 DPI is fine on this mouse.
Conclusion:
Keep in mind that we are talking about a gaming mouse that usually costs less than $30 (its initial price was $40), so realize everything that the SteelSeries Rival 110 offers for such a low price.
It is a comfortable mouse, quite customizable and with a 7200DPI and LED lights. It has macros and you can customize buttons, colors, sensitivity, acceleration or response speed, not bad at all.
Any drawbacks? The wheel is somewhat difficult to press, it can be too light and small for some, and the sides give a somewhat plastic feel (although it is quite decent).
All these buts do not mean that for its price it is one of the best options for quality and functionality. If you want something else (build quality, more DPI or features), you are going to have to spend a lot more money.