Keyboard
Mountain.gg launches Everest, a high-end, fully modular mechanical keyboard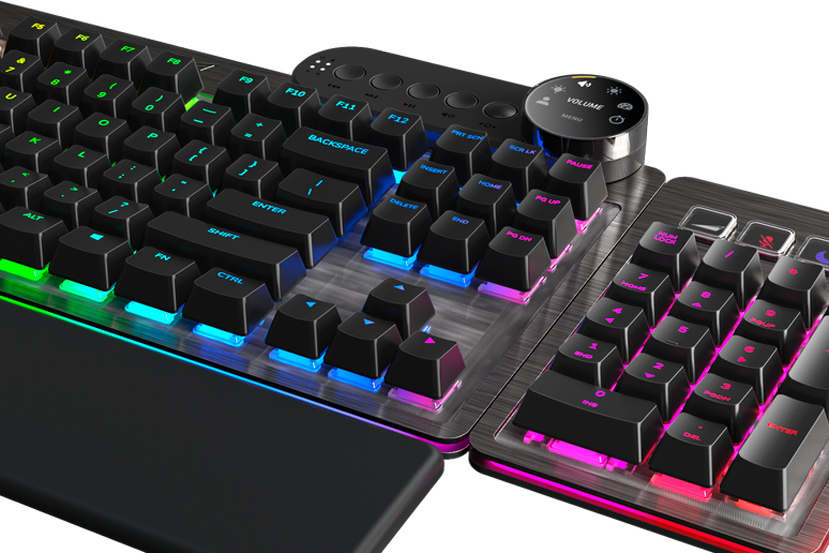 After several teasers made over the last few weeks, the new brand of premium peripherals Mountain.gg They have launched their first device, a keyboard fully modular and customizable for those looking for a peripheral different from everything currently on the market. So is the Mountain Everest:
The Everest has been created from the ground up by selecting all of its components and custom manufacturing them to combine the performance of a high-end keyboard with as much customization as possible. The first step to do this has been to choose the standard USB-C as a connection system, both for the keyboard and for the interconnection of the different modules that make up Everest. In addition, a magnetic system to facilitate the connection and stability of accessories. For example, the palm rest is magnetically attached to the keyboard.
The main material of construction is high quality aluminum, two plates are used for greater strength and durability.
The switches are, how could it be otherwise, Cherry MX, and they are positioned so that they can be easily removed and fitted on the go. This means that it is possible to customize Everest to have different types of switches according to the needs of each user, even having several types of switches at the same time, be they Cherry MX or other manufacturers with a compatible format, and all this without the need to solder. .
Naturally, Everest has N-Key Rollover And it can detect all keystrokes even if all the others are pressed at the same time.
Also striking is its lifting system, equipped with some magnetic metal stops that allow the height of the back of the keyboard and its modules to be adjusted. It's also not lacking in individual RGB lighting for each key.
In the lower part, several channels have been added to be able to manage the connection cable without disturbing it, being able to remove it through the central part, side or even in other areas. Also included is a USB 3.2 gen 1 hub, that is, USB 3.0. The connection with the PC is USB-C
Numeric keypad module with 4 keys with display
The modular numeric keypad is one of the main modular elements of Mountain Everest. It is a keyboard built with the same materials (aluminum) as the keyboard itself and which also includes four keys with their own screen to be able to personalize them and program them to taste. You can add gaming functions, access to specific applications with their own icon, macros, etc.
Another feature that makes it special is that, thanks to a lower lever system, the Numpad can be placed on both the right and left sides, moving a USB-C connector to one side or the other depending on the user's needs. .
Media Dock module with circular OLED display
Another of the Everest modules is the Media Dock con Display Dial, It is a small, completely modular device that can be placed in either of the two upper corners of the keyboard and that offers, in addition to several LED indicators, a full-color circular OLED screen to access different information and function icons.
This screen has a circular crown that rotates and can be customized, it can be used to increase or decrease the volume or map it for use with any other function or combination of keys. The entire macro and key customization system is done from the Base Camp software.
The Mountain.gg Everest Your KickStarter financing campaign is starting right now with discounted prices. It can be purchased only the main keyboard module (Core), or in packs with wrist rest, with Media Dock, with NumPad, or all together.
Core Barebone (without interruptions): 95 euros (145 euros retail price).
Core (con teclas) Early Bird: 99 euros (149 euros precio retail).
Core (con teclas) Early Bird: 109 euros (149 euros precio retail).
Core + Wrist rest: 124 euros (164 euros retail price).
Core + Media Dock: 149 euros (189 euros retail price).
Core + Numpad: 169 euros (209 euros precio retail).
MAX (todo) Early Bird: 189 euros (249 euros precio retail).
MAX (all): 199 euros (249 euros retail price).
Conclusion
Now, Mountain.gg has announced an updated version of the Everest with some new features and improvements. So, is the new Everest worth your money? Let's take a look at the final verdict.
The first thing you'll notice about the new Everest is that it's now available in three different sizes: Full (104 keys), TKL (87 keys), and 60%. This gives you more options to choose from depending on your needs. The next thing you'll notice is that the case has been redesigned to be more durable and stylish.