Motherboard
foxconn presents its option 975X for Core 2 Duo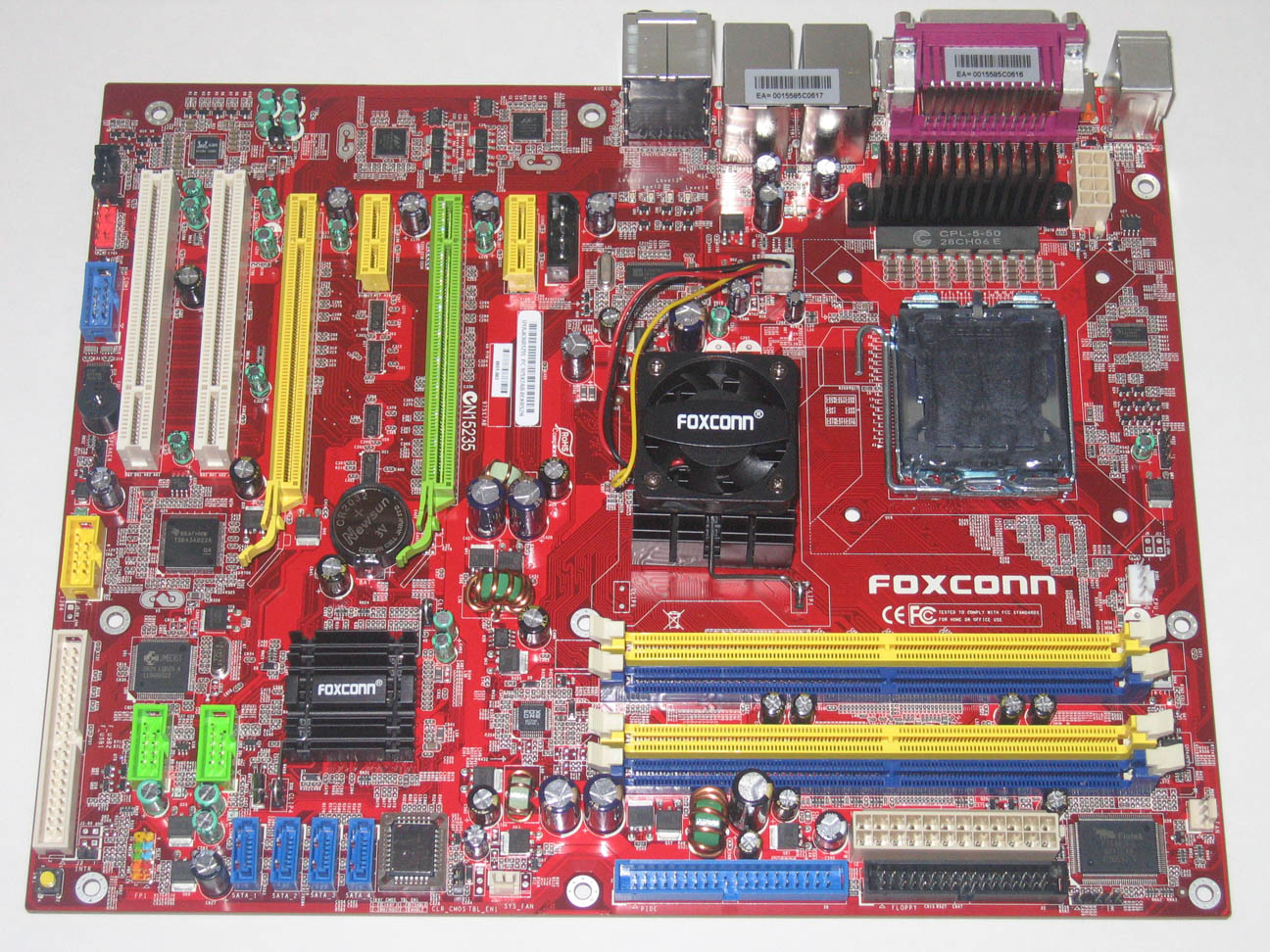 975X7AB-8EKRS2H. Behind this codename is Foxconn's latest high-end creation for computers with Intel Core 2 Duo processors. It is a plate that although it does not have the "extras" that we see in competitive models, it can boast of being one of the best finishes on the market.
These that you see are some of its main characteristics:
The 975X7AB-8EKRS2H includes innovative FOXCONN PWM technology that improves CPU voltage regulation. PWM not only effectively reduces the heat on the board and improves Vcore stability with overclocking, but also creates more space around the CPU socket. Additionally gamers and graphics enthusiasts will appreciate the integrated FOXONE technology that enables robust overclocking of the CPU, memory and chipset while maintaining stable operations and monitoring system health including temperatures, fan rotations and voltages.
The 975X7AB-8EKRS2H takes gaming and 3D applications to a new level through faster graphics rendering and multi-channel audio. The 975X7AB-8EKRS2H comes with 2 PCI Express® x16 slots that support two ATI cards in CrossFire ™ mode with support for PCI Express® x8 cards. The PCI Express x16 slots allow multiple display configurations and flexible video connectivity through ADD2 (Advanced Digital Display 2) cards. There are 2 PCI Express x1 and 2 PCI slots to provide a nice additional header for expansion. Integrated 7.1-channel high-definition audio develops realistic sound for a full gaming experience, while the S / PDIF connector allows convenient connection to high-end sound systems and audio processors.
The 975X7AB-8EKRS2H has an optimized 1066/800 MHz bus and Intel® ICH7R Southbridge system that provides the necessary for combinations of parallel and Serial ATA storage with support for up to 4 SATAII 3 Gb / s hard drives, an external SATAII 3 Gb / s connector. s, and 2 ATA 133 devices. Intel® Matrix Storage Technology offers multi-disk configurations including RAID 0, 1, 0 + 1, 5 and JBOD that are essential for performance and data protection. Memory-intensive applications run through the dual-channel memory architecture that supports up to 8GB of system memory using DDR2 533/667/800 MHz memory modules. The 975X7AB-8EKRS2H includes the revolutionary Intel® Memory Technology Pipeline that accelerates the transfer of data between the processor and the system memory resulting in superior performance. The 975X7AB-8EKRS2H includes fast connectivity through Dual Marvell 88E8056 Gigabit LAN ports that makes it easy to play online games, download Internet content, and transfer files.
Developing full support for digital peripherals and devices, the 975X7AB-8EKRS2H supports up to 8 high-speed USB 2.0 ports and 2 IEEE 1394a ports (one mid-board) and comes with a set of technologies for diagnostics, BIOS recovery, security, online firmware …, such as: SuperRecovery, SuperBoot, SuperBIOS-Protect, SuperSpeed, SuperStep, SuperLogo, and SuperUpdate.
Features and Specifications
* Intel® Core™ 2 Extreme/ Intel® Core™ 2 Duo/Intel® Pentium® Extreme Edition/
Intel® Pentium® D/Intel® Pentium® 4 processor
* Chipset: Intel® 975X + Intel® ICH7R
* Front Side Bus: 1066/800 MHz
* Memoria: Dual-channel DDR2 800 (OC)/667/533 MHz x 4 DIMMs, Maximum 8 GB
* Expansion slots : 2 x PCIe X16, 1 x PCIe X1, 2 x PCI
* Storage: 5 × SATAII 3 Gb/s (including an external SATAII 3 Gb/s connector with RAID 0, 1, 0+1, 5, and JBOD functionality); 2 x ATA133
* Audio: 7.1-channel, high-definition audio
* LAN: Dual Gigabit Ethernet ports
* IEEE 1394: 2 x 1394a (rear port and mid-board header)
* USB 2.0: Up to eight ports (four rear ports and two mid-board headers)
* 100% RoHS compliance motherboard
* Window Vista Ready
Availability and price
The 975X7AB-8EKRS2H is available now. Its price is 208 euros + VAT.