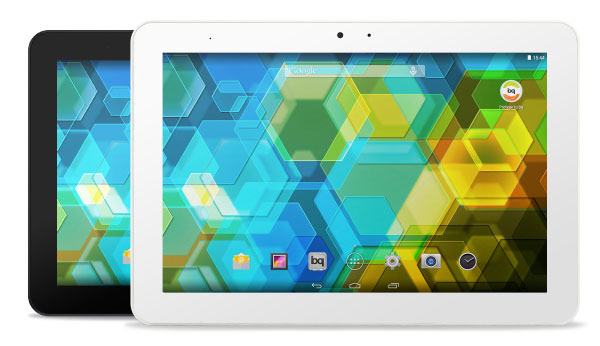 Famous company BQ some years back announced a new version of its star tablet BQ Edison 3. It is about the renewal of one of the most popular and sold models of the brand, the BQ Edison 2, which had received lots of praises.
BQ Edison 3 Features
Dimensiones: 256 x 174,7 x 9,7 mm
Weight: 618 grams
10.1″ IPS screen with a resolution 1280 x 800px – 150 ppi
32GB storage + microSD up to 32GB
2GB RAM
Procesador Quad Core Cortex A7 hasta 1,3 GHz
GPU Mali 450-MP4 hasta 500 MHz
7000mAh LiPo battery
Conexiones: microUSB, Mini-HDMI, Jack 3.5mm
WIFI, Bluetooth 4.0 and GPS connectivity
SO Android 4.4
5MP rear camera and 2MP front camera
Full HD video recording (1080p)
Two 1W speakers of power and Dolby
Sensors: Brightness Sensor, Accelerometer, eCompass, Gyroscope
Notification LED
Opinion and Analysis
The new BQ tablet arrives on the market to try to improve the excellent results of the Edison 2. The company knows that it has a good product, and for this reason, with this version they have dedicated themselves to slightly improving the previous model, without adding major modifications.
Design and Hardware
The BQ Edison 3 is a lighter and thinner tablet (available in black and white): they have reduced its weight by 10% and its thickness by 1mm compared to the Edison 2, while maintaining its 10.1″ IPS multitouch 10-point screen and 178º viewing angle with a 1280 x 800px resolution. Is this resolution enough to watch games and movies with quality? Yes. Mid-range tablets such as the Samsung Galaxy Tab 4 have the same resolution, which, even though it is not Retina or Full HD, provides more than enough quality considering that we are not going to pay an excessive price for this tablet.
Yes we are going to find a great addition in its two 1W power speakers with Dolby system, which will provide us with a very good sound quality despite being located at the back and not on the sides.
What if it seems more than enough is its 32GB of storage, but if they were not we always have the option of adding a microSD card of up to 32GB to increase disk space.
The connectivity of the Edison 3 has nothing to envy other options either, since it has WIFI, Bluetooth, microUSB and a mini-HDMI output to be able to connect the tablet without problems to any television.
Operating System and Battery Life
As an operating system we are going to find the improved Android KitKat 4.4 that, among other things, will provide us with a more efficient management of the battery that can have a range of 14 hours despite the fact that it has gone from 8600mAh to 7000mAh. It will also help that the CPU that they have included in the Edison 3, Quad Core Cortex A7, is more energy efficient, consuming up to 5 times less energy than the Cortex A8 model and also achieving better system performance.
All this (along with its 2GB of RAM) will result in the system working smoothly, being able to conveniently use the multitasking of Android 4.4
Camera
Well, they are not to shoot rockets. It has two cameras, one of 5MP and the other of 2MP that will get us out of the odd trouble to take good photos with adequate brightness, but surely with your smartphone you will get better results.
Conclusion
The people of BQ have improved the previous version of their BQ Edison 2 tablet without making much fuss and without adding major changes, but generally achieving better performance from their tablet thanks to the inclusion of the Cortex A7 processor and Android 4.4. That's why Perhaps they have reduced the battery capacity and still have achieved an improvement in the range of the Edison 3.
Will he be able to surpass the success of the BQ Edison 2? It has all the earmarks that it is going to become one of the most demanded low cost tablets of the remainder of the year and of course this Christmas.