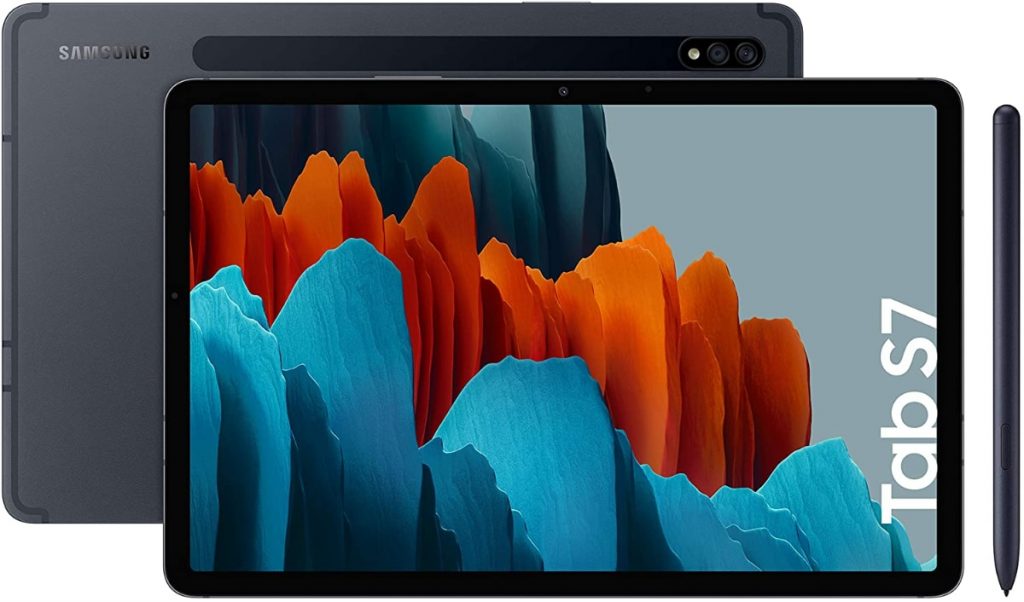 Are you a student and looking for the best tablet? Do they resist the comparison with Apple's iPad? Good news everyone. Tablets are becoming really useful devices and how could it be otherwise, we have chosen the best tablets for students on the market that you will be able to buy in 2022. We are going to recommend the best tablets you can buy this year, making a comparison between the best tablets.
As in previous years, the fight is still clear between Android tablets and Apple's iPad, but Microsoft also wants to participate with its Surface Pro, one of the best 2 in 1 of the moment, so let's see which are the best tablets that we can look forward to getting our hands on it for the next 12 months.
If you want to see what our recommendations for quality-price tablets are, you just have to visit one of the entries that we recommend in the article.
Best Tablet for Students: Buying Guide
The truth is that it is quite difficult to choose the best tablet for students. but we have a good reference to choose the best option, the Apple iPad.
Tablet Screen
It is the first thing that strikes us. Possibly because of its large screen we have bought it, so as not to have to leave our eyes on the mobile screen. That said, we need to know what is the perfect size, what resolution is recommended and the type of panel we need.
Normally people buy with a screen size of 10 inches, but we have them smaller, with 7 inches or with a much larger screen, up to 12 inches. Which one suits you? If you are going to be sitting on the sofa in your living room consuming content, the 10-inch size may be perfect. If you are going to read books, the smaller the better (that way it weighs less, although you should buy an eReader). If you are going to work, the bigger the screen the better.
Regarding panel technology, we have LED LCD vs OLED. We have already told you about it on televisions, but here are the main points for and against each technology:
Tablet Hardware
The truth is that this issue is problematic. It is not like on smartphones. Tablets last longer, especially if we are talking about Apple's iPad. If Apple does something good, it is that the mix between good hardware and great operating system means that we do not need as much RAM memory to move the apps.
An Android tablet may have more RAM and more processors, but the iPad can beat it by a landslide by being so much more efficient. Take a look at Apple's new M1 Chip. It gives a thousand turns to most of the chips on the market in this area. With its eight-core CPU, the M1 chip gives you up to 50% more performance. It also has an eight-core GPU that speeds up the iPad Pro's graphics performance by up to 40%. You just have to see it in operation. A marvel.
That said, if you're going to use a tablet for work, the better the hardware, the better. The more RAM, the more multitasking options and the less hassle when moving complex applications.
Storage Capacity: At least you should go to 32 GB, but we recommend 64 GB or more to avoid storage problems. Many models allow you to insert MicroSD cards to increase the capacity (it does not happen in the iPad).
Connectivity: Bluetooth and Wi-Fi at a minimum. Then you also have LTE, but in general it is not used much. The average user is usually worth only Wi-Fi connectivity. Make sure it has 802.11 a / b / g / n / ac at least and soon wifi 6. If you want to use the tablet anywhere, you might be interested in a model with LTE (4G).
Cameras: They are not usually very important on a tablet, but with the rise of video calls, maybe you need a good camera on the front so you don't look like an orc in front of your co-workers or friends.
Battery Life: Very important in these devices. The battery life should be high. With normal battery use, it should last you many days, 3 to 6 days. If you use them at all hours, a couple of days. Between 8 and 15 hours of continuous use is usually the usual duration.
Operating System and Applications
We will have Android, iPadOS or Windows. The entire Android ecosystem is quite heterogeneous, which works against it quite a bit. In contrast, iPadOS offers a more consistent and long-lasting experience. Apple's support for its devices is generally higher than Android or Windows.
Security patches arrive before iPadOS and in Windows we can have a closer experience to the operating system we use on our PC. It depends a lot on what you are used to.
Apple tablets are very simple to use, and with the incorporation of the keyboard in their iPad Pro, even more. You can even connect an external mouse to the iPad. Windows models also usually come with a keyboard, so that we do not feel so much the change from PC to tablet.
Applications? If you buy an Android tablet you will have access to the Google Play Store. If you buy an Apple tablet you will have access to the App Store. The tablets with Windows 10 give you access to the Windows Store. But in this case you can download programs from many other sites. It is a less closed ecosystem. If you buy a Tablet Fire from Amazon , they give you access to the apps from the Amazon store, but not to those from Google (there is a trick to get it.
Many apps share between both systems, but there are always options that only appear in one of the systems.
Tablet Layout
Important. The premium range can models hurt to be made of aluminum, the cheapest ones in plastic. The advantages of aluminum are obvious: it not only makes the tablet look better, it also favors heat dissipation and makes the device lighter.
Tablet Price
As you can imagine, Apple tablets, the iPad or the iPad Pro, tend to be quite expensive models if we compare them with the Android models. Do they last longer? Yes, but they are more expensive than most Android models.
Eye! Some Samsung tablet models are really expensive and have prices equivalent to the iPads.
For less than 100 euros you have Android tablets. The mid-range is in the 200, 300 euros. The high range goes to 500, 800 euros (or more, depending on the storage capacity and extras of the model such as a pen, keyboard.
What Are The Best Tablets for Students You Can Buy In 2022?
If you want to buy a good tablet as a student, but you don't know which one is the best, the best we can do is find out the best tablets with Android operating system on the market and compare them with the iPad, the Apple tablet that is a benchmark in innovations and functionalities. That is why we present you a list of the best Android tablets and we compare them with the iPad.
1.

Samsung Galaxy Tab S7
---
With 11-inch QHD touch screen with 2560 x 1600 pixel resolution and 120Hz

Qualcomm Snapdragon 865+ processor

6 GB RAM

128GB storage with MicroSD slot

13 MP rear camera and 8 MP front camera

With Atmos sound and AKG quad speaker

8000 mAh battery with 45 W fast charge

Android 10 operating system

Con S Pen
The new model of the year. Top of the range of Samsung and the Android world. It is not a cheap model, but it is the direct competitor to Apple's iPad. You can also opt for the Samsung Galaxy Tab S7 + with a 12.4″ screen.
It has an impressive display with spectacular brightness along with a battery life of over 13 hours. You have models with wifi, 4G and 5G.
Where it can't compete with the iPad is in its keyboard sleeve. It is somewhat worse than what Apple offers. The number keys are very small and awkward. The processor is also not able to compete on equal terms with Apple's chips.
That said, it is a thin and light tablet, with a screen that already offers 120 Hz. What more could you ask for?
2. Samsung Galaxy Tab S6 Tablet 10.5″
---
10.5 ″ inch screen with 2560 x 1600px resolution

Wi-Fi connectivity with upload and download speeds of up to 867 mbps

Dual rear camera of 13 MP and 5 MP

7,040 mAh battery

Includes the "s pen"

6 GB RAM memory and 128 GB storage capacity expandable with MicroSD slot up to 512 GB

Incorporates an optical fingerprint sensor on the screen

Con USB-C
Samsung's star tablet of 2020. Very good performance, with S Pen to unleash your creativity and productivity, with optional keyboard in sleeve (and touchpad) and really good speakers.
It does not have a 3.5 mm jack and the battery life could be better, but we will forgive you. A tablet that can replace your laptop.
It is designed in aluminum, the cameras are good and it has a gaming mode. Its price is somewhat high.
3. Apple 10.2-inch iPad (2020)
---
10.2-inch 2160 x 1620px Retina display

Chip A12 Bionic con Neural Engine

Apple Pencil and Smart Keyboard compatibility

32GB or 128GB storage

8MP rear camera and 1.2MP FaceTime HD front camera

Stereo speakers

Wi-Fi 802.11ac and optional 4G LTE networks

Up to 10 hours of autonomy
---
Spectacular performance, design and functionality. We can say little about its benefits. It is better to have it in your hands. It is a pity that there is no 256 GB option and that the pencil is not included. The perfect tablet for the average user.
The A12 Bionic chip works wonders on this model, including an improvement in speed over previous models. It doesn't have Apple's best chip, but neither does its high price.
The screen has a very good resolution and everything looks perfectly on it. The edges are a bit dated, but we will forgive you: the device works wonderfully. You will have an Apple tablet for many years.
4. Apple iPad Pro 12.9″ (2021)
---
With the new

Apple M1 Chip

TrueDepth camera system with ultra wide angle and centered framing

12.9-inch Liquid Retina XDR display with ProMotion technology, True Tone and wide color gamut (P3)

Resolution of 2,732 by 2,048 pixels at 264 p / p

Cameras:

12MP wide angle, 10MP ultra wide angle and LiDAR scanner to immerse yourself in augmented reality

5G connection

6th generation supersonic Wi-Fi connection

Autonomy for a whole day
The latest generation Apple iPad Pro is one of the best tablets you can find on the market and it also has a new generation stylus. The Apple iPad Pro comes in two sizes, an 11-inch model and a larger 12.9-inch version. You can choose from several storage options, from 128GB to 2TB (the most expensive).
Although sold separately, the Apple Pencil is designed for artists and graphic designers. The larger model is recommended. The pen is purchased separately, just like if you want the Magic Keyboard or the Smart Keyboard Folio.
It makes complex tasks as easy and natural as tapping, swiping, or writing with a pencil. Apple advertises this model as the perfect replacement for your laptop… Is it true? Well, it can do a lot of things, and it may become the main computer for many users, but Apple still has a lot of things to do on iOS, such as plugging a USB stick into its USB-C port.
Its screen is amazing, the hardware is the best Apple has ever done and its speakers are really powerful. A worthy successor to the previous model.
In case you want something cheaper you can always opt for the 2020 Apple iPad Pro model with A12Z Bionic Chip and 128 GB.
5. Amazon Fire HD 8
---
8 ″ display with 1,280 x 800 px resolution (189 dpi)

Up to 12 hours of battery life

2 GB RAM

SO Fire OS
Procesador Quad-Core de 2,0 GHz

Dual band WIFI

32GB 0 64GB storage + MicroSD card up to 1TB

Two Dolby Atmos Dual stereo speakers, built-in microphone

2 MPX front camera and 2 MPX rear camera with 720p HD video recording

With USB Type-C (2.0) connectivity

Dimensiones: 202 x 137 x 9,7 mm

Weight: 355 grams
The new Amazon tablet model is still very cheap and its functionalities somewhat better than what the Fire offers to dry. Its speakers are really good and the only really poor thing about this tablet is its screen resolution, which falls short.
We don't even mention the cameras (very fair, but who uses these cameras with the mobile one?). A slightly more complete option for a laughable price. It is worth having the screen a little larger if you are going to watch movies. You have up to 12 hours of battery life.
It is a perfect tablet for watching videos, making video conferences and consuming content.
You can also opt for a new 10-inch version that Amazon has launched, the Fire HD 10. It comes with a 10.1″ Full HD screen with 32 or 64 GB of internal storage and up to 1 TB with MicroSD card. Processor?

Octa-Core processor and 3 GB of RAM.
6. iPad mini 2019
---
7.9-inch Retina display with True Tone and wide color gamut

Chip A12 Bionic
Sensor de identidad Touch ID

64 GB of storage

8MP rear camera and 7MP FaceTime HD front camera

Stereo speakers

wifi 802.11ac

Up to 10 hours of autonomy

300 gram weight.
The new 2019 model, with substantial improvements. We sacrificed a bit of storage and brought home a little beast for a similar price to the previous model.
The jump in processor is tremendous, from the Apple A8 to the A12 Bionic. It has also improved the battery life and the screen. It is compatible with the Apple Pencil. It has an 8 Mpx camera with HDR and 1080p HD video.
7. Microsoft Surface Pro 7
---
12.3 inch touch screen (2736x1824px)

Procesador Intel 10º Gen. Core i5-1035G4, 1.1 GHz

8 GB LPDDR4X RAM

128GB solid hard drive

Intel Graphics graphics card

Windows 10 Home Operating System

Does not include Type Cover (keyboard cover)
The new generation of this Microsoft tablet is excellent for professional use with Windows 10. It has a 12.3″ screen with a 2736 x 1824 px resolution, which gives it a 3: 2 aspect ratio and makes it perfect for reading. PDF documents or magazines, and of course to take notes.
The most affordable model has 8 GB of RAM and 128 GB of SSD hard drive. Its battery lasts longer and its performance is higher than the previous generation.
The Surface Pro has become one of the best tablets for its good performance and versatility. You can replace your home computer without messing up. It is light and very powerful.
It has a keyboard and Windows 10, so it is perfect for professionals. Its screen is spectacular. The perfect replacement for a conventional computer.
You have options from Intel Core i5, Intel Core i7 and with 128 GB, 256 GB or 1 TB of storage memory. The keyboard is purchased separately. RAM memory ranges from 8GB to 16GB. The battery can easily last you more than 13 hours.
Its strong point is the screen: it has greatly improved the contrast and the colors are more vivid than in previous versions. The SSDs that they incorporate are also faster.
8.

Microsoft Surface Go 2
---
With 10.5 ″ screen

Autonomy of up to 11 hours

Procesador Dual-Core Intel Pentium Gold 4425Y (2 núcleos, 2 MB Cache, 1.7 GHz)

8 GB LPDDR3 RAM

128GB solid hard drive

Windows 10 Home Operating System

No incluye Type Cover
Wifi IEEE 802.11 a/b/g/n/ac/ax
You have many configuration options for this tablet computer, but as we start, it is best to opt for the 8 GB of RAM and the 128 GB of SSD hard drive. If you go to 256 GB it is something more expensive.
It's a nice upgrade over its predecessor. It's not perfect, but it can work for many. It has a headphone jack, USB-C or MicroSD slot. It has thinner edges and a slightly larger screen than its predecessor.
The battery life is really good at almost 11 hours and it has an excellent 5 MP 1080p webcam and it even allows you to unlock the tablet with its facial recognition.
Eye! Performance is still not impressive for the price, so consider buying the older model.
9. Samsung Galaxy Tab S6 Lite
---
With the bezel thickness reduced to 9mm and rounded screen edges

With the new S-Pen that allows a better writing and drawing experience thanks to its lower latency, of only 26 ms

10.4" display and two-speaker system with Dolby Atmos (with headphones)

8 MPX rear camera and 5 MPX front camera

4 GB of RAM, 64 GB of internal memory (expandable with MicroSD up to 512 GB)

Available in blue and gray color
The Galaxy Tab S6 Lite is a worthy rival to Apple's iPad and one of the best options in the Android world for value for money right now. Its screen is tremendous and has great contrast. It is very thin and its operation is really smooth. The keyboard is not included, but if you have the S-Pen within the price, something that is very appreciated. It is a perfect tablet for taking notes.
If you want a mid-range Android model with the possibility of writing on the tablet, this is possibly the best option you will find. There are other tablets with a better processor and screen, but they do not include the s-pen.
You may have a specific problem with the use of the Pen, but it is nothing important.
If you have a little more money available, you can always go for the Samsung Galaxy Tab S7, the direct competitor to Apple's iPad Pro.
10.

Samsung Galaxy Tab A7
---
CPU: Qualcomm SM6115

10.4-inch screen with 2000 × 1200 pixel resolution

32GB storage

3GB RAM

Ports: USB-C and microSD
An Android tablet that competes with the Apple iPad in everything, and that has a lower price. It is intended to consume content, so do not order pears from the elm.
Battery life goes up to 13 hours – impressive! And it has facial recognition, which is impressive in such a cheap device.
You will also find a USB-C port and a true Android experience, not like the one offered by Amazon's Fire HD.
Eye! Neither the performance nor the screen brightness is as good as what the iPad offers.