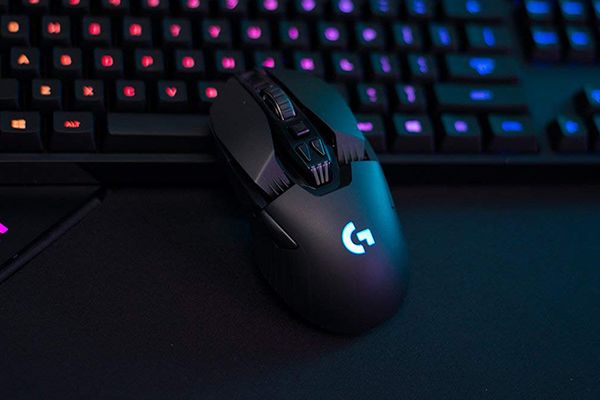 Best Left Handed Mouse for Gaming 2022
After 18 hours of research and careful analysis of 12 models, the Roccat Kova AIMO mouse turns out to be the best choice thanks to its many possibilities and its attractive price / quality ratio.
It is appreciated by many players in particular thanks to its extensive programming possibilities (11 buttons) and its flexibility which make it adaptable to all games, whether FPS, RPG or even MMO. The sensor it contains is precise, responsive and reliable, without pushing reactivity to the extreme, for the benefit of a contained price. Its tapered design and curved keys are also good assets for your comfort of use.
It is rare to find at this price level a mouse whose ergonomics are worked, especially for an ambidextrous model. The placement of the buttons on the upper side and the non-slip coating on its sides make it a pleasant product to use in all circumstances.
This is the best ambidextrous model on the market… for those on the budget. Equipped with the renowned HERO optical sensor, Logitech offers a new benchmark in the field. Just like the G900, it offers very good responsiveness and high comfort with the addition of minimized latency and PowerPlay compatibility, to keep the advantages of wireless, even at home, and without worrying about the battery.
Designed for ergonomics, the Sensei 310 has been acclaimed for many years by players whether right-handed or left-handed. It is responsive and precise, which allows amateurs and professionals alike to benefit from its many qualities. Unfortunately, some shoppers reported a double-click issue, which knocked her off the top of this section.
Responsive and efficient, it competes with the G903 on many points. Unlike the latter, it only has 9 buttons, but these are fully customizable and can have doubled functionality thanks to the Hypershift. A laser sensor is part of the process to provide better surface recognition via constant data transmission.
Our Top Picks: 
Honorable mentions
Corsair M55 RGB Pro (€ 32.90 when published): precise and light but with a lack of responsiveness. This ambidextrous mouse weighs only 86 g. In addition, it has a 12,400 DPI optical sensor. And for its low price, it still has eight programmable buttons and lighting. On the other hand, it is more limited in terms of reactivity. This was to be expected given the budget.
Razer Viper (€ 64.99 at the time of publication): an effective competitor but whose design is doubtful. This corded model is ambidextrous and has a featherweight of 69 g. The eight buttons are of course programmable and allow left-handers to play on PC and Mac. It has 16000 DPI for a smooth glide. The overall design, however, seems a bit weak to some.
BUYING GUIDE:
How to choose your left-handed gaming mouse?
When searching for the perfect solution for our left-handed friends, we realized that there are extremely few models specifically dedicated to it. In addition, another problem comes from the fact that this market represents a niche, the brands take advantage of it to increase the selling price of these models by reducing the integrated functionalities.
We therefore decided to propose gaming mouse which offer a good balance between ergonomics and interesting functions. In this state of mind, it is natural that you therefore find many ambidextrous models in our selection, because their quality / price ratio is most often much more interesting than that of the dedicated models.
In order to determine which ones to highlight, we used the following criteria:
Ergonomics:

it affects your comfort of use and the length of time you can use your mouse without feeling any discomfort. It is essential to pay attention to this criterion, as it influences your performance in game and the accuracy of your actions. In the case of left-handed models, this point is even more important because, as we said, few mice are actually optimized for use on this side.

The type of sensors

: there are two types of technologies: optics and laser. The first uses an LED to analyze the surface on which it is sent and calculates the trajectory to be transmitted to your computer. It does not work well on glass or shiny surfaces. The second, the more precise, works using a beam that sends data continuously. More expensive, it is generally reserved for high-end products.

Buttons and programming possibilities

: a high number of buttons allows more freedom in the game. Their placement has an influence on the speed of your actions and must be studied to avoid accidental activations. Many manufacturers also allow programming to link them to a specific action or a combination of keys. Features such as HyperShift (Razer) or Easy-Shift (Roccat) double the possibilities.
NB: To preserve your mouse, we recommend the use of a mat. And if you don't know which model to choose, don't hesitate to take a look at our article on the subject.
Sources
Dot ESports, Best left-handed mouse 2021 | Top 5 left-handed mice of 2021 , 13 août 2021

IGN,

Best Left Handed Gaming Mouse 2020: Go Southpaw on PC Gaming

, August 13, 2021

PC Gamer,

The best left-handed mouse for gaming

, August 13, 2021