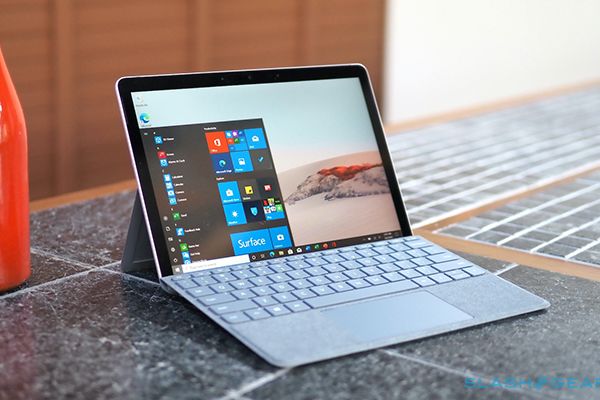 Looking to buy a convertible PC tablet but finding it really hard to get one? Here are the best hybrid PC tablets that you can consider buying on a budget from Amazon.
Our Picks For The Best Hybrid PC Tablet
After 8 hours of research and analysis of 26 models, we have determined that the Microsoft Surface Go 2 stands out as the best hybrid PC tablet for the majority of users. It combines sufficient power for a number of uses with astonishing overall quality.
Our Pick, Best Mid-Range
Microsoft Surface Go 2
This hybrid uses the codes of its big brother at an affordable price. We therefore find an excellent keyboard coupled with neat finishes and performance that will suit as many people as possible.
The Surface Go 2 bills itself as an affordable Surface Pro. As a result, we find a design very similar to its big sister coupled with a very good quality panel, packaged in a resolutely premium chassis. Its performance is limited in its basic version, which restricts its capabilities to office automation or multimedia. The version with Intel Core m3-8100Y However, it is much more versatile and can handle heavier tasks. The latter is also available in version LTE. However, its essential keyboard is unfortunately still sold as an option.
Lenovo IdeaPad Duet Chromebook
Lenovo has decided to apply the philosophy of Chromebooks to a hybrid PC in the form of a tablet. The result is a great pleasure of use for a contained price, favored by a reduced need for power.
With its honest services, the Ideapad Duet Chromebook is an alternative to the usual touch tablets. Thus, it has the advantages of the latter with its reduced format and its high autonomy while having certain advantages of a laptop with its physical keyboard and the use of an operating system designed for productivity. However, its limited power limits its possibilities, which makes it primarily for office automation or multimedia.
Best high end
Microsoft Surface Pro 7
Original hybrid model, it retains its place at the top of the ranking thanks to the versatility offered by its OS. Its overall quality is excellent both in terms of its performance and its physique.
The Surface Pro 7 continues to deploy its charms at the top of the range with its many advantages, including its keyboard, considered the benchmark of the market, its perfectly calibrated screen and its meticulous finishes. The basic model is interesting for the vast majority of uses, but the champion is undoubtedly the version equipped with a Intel Core i5, more efficient for heavy tasks. On the other hand, it retains its main flaw: optional accessories (keyboard and stylet), for a fairly high price.
Honorable Mentions
Samsung Galaxy Tab S7: An Android tablet with a qualitative keyboard. High-end version of the touchscreen tablet according to Samsung, it takes the best of Android both for its processor and its screen. The quality of finish is at the rendezvous which makes it the benchmark for models running under this OS. However, it has the same flaws as its little sister because of the limitations of this mobile system. His keyboard and the S Pen add an additional cost of about 20% for the first and 10% for the second.
Apple iPad Pro: An excellent alternative to PC's of all kinds. With its iPad Pro, Apple also won the title of the most powerful model on the market. The brand even allows itself to make the most common laptops blush. This iPad is available as a bonus in Wi-Fi or 4G et en 11 and 12.9″, all in four storage levels. Unfortunately, it comes at a fairly high base price, to which must be added the dedicated keyboard (+ 30% of the price) and theApple Pencil (+ 15%).
Microsoft Surface Book 3: A balancing act for both tablet and PC. Where the other models in this article tend towards the tablet part, the Surface Book 3 prefers to see itself as the best of both worlds. Indeed, once its two halves are grouped together, we end up with a laptop computer to compete with the best models on the market. Thus, we are entitled to a good power for both calculation and graphics. The trick comes from the fact that its graphics card is housed under its keyboard, with an additional battery.
How To Choose The Best Hybrid PC Tablet?
Representing the perfect compromise between a laptop and a tablet, hybrid PCs have become rare in recent years. Indeed, it is more and more complicated to find a solution with a detachable screen, manufacturers tend to favor convertible models (360 ° swivel screen), which are mainly found among chromebooks and the 13-14 "models.
To help you make your choice, we have identified the following criteria:
Operating System (OS):

It determines the ease of use and the possibilities of your machine. Mobile systems (iPad OS and Android) are more suited to tablet use but generally less designed for versatility and productivity, as opposed to Windows which requires a keyboard to develop its full potential and its almost unlimited possibilities.

Performance:

In parallel with the OS, the components of your PC will influence its ability to manage your various tasks. Unfortunately, hybrid models are rarely monsters in this area, although mobile models can do well with optimized apps. However, keep in mind that they cannot replace a real laptop for heavy-duty tasks like video editing.

Screen:

Its quality has a great impact on your comfort of use. Indeed, an efficient panel allows you to take full advantage of your content and work in the best conditions, without straining your eyesight. As a bonus, if its contrast and brightness are sufficient, you can consider using your device outdoors to enjoy a breath of fresh air.

Mobility:

Any truly portable device should be easy to take with you. It is therefore necessary to take care of its compactness, its weight and its autonomy so that it is not a burden and that you do not need to search at all costs for an outlet or to buy a

external battery

.

Ergonomics:

This thing also determines your ease of use. It is based on the overall handling and quality of input devices (keyboard and touchpad). As a bonus, it is interesting to dwell on biometric security and their reactivity so that the use of your machine is a pleasure.

Ports:

Generally limited on this type of device, it essentially consists of a USB-C port (thunderbolt 3 or not) coupled to a possible USB-A port. It will therefore be necessary to consider buying a

HUB

to complete the endowment. Wireless connectivity is therefore designed to compensate for this defect via, in particular, Bluetooth. Wi-Fi is of course in the game and some models already include the new version, called Wi-Fi 6.

Accessories:

Included or not, they may be essential to enjoy a full experience (like Microsoft Surface). You have to take into account the additional cost they generate during the purchase to get a good idea of ​​the total investment. Their quality should not be neglected either, as they can impact the ergonomics and mobility of the whole.