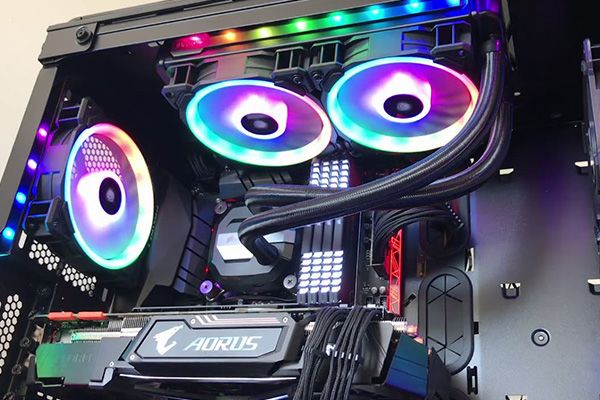 Looking for a good quality case fan for your gaming PC? Here are the best case fans for gaming PC that you can buy online in 2022.
Our Picks For The Best Case Fan For Gaming PC
After 9 hours of research and analysis of 21 products, we have determined that the best case fan is the Noctua NF-A12 x25 PWM. It is also available in a x15 version, ideal for configurations where space is at a premium.
When it comes to the air cooling of our beloved machines, Noctua is on everyone's lips. It is therefore not surprising to find one of its models at the top of our ranking. In our eyes, it represents the best compromise in view of the possibilities it offers thanks to its noise reduction mode and its PWM connection. Its proprietary SSO2 rolling system is also a significant bonus.
With the NF-S12B Redux, Noctua is venturing into the entry level with a very competent model faithful to the brand's standards. It embeds previous generation SSO bearings but delivers an airflow similar to its big brother while retaining PWM management. However, it does not have the adapters dedicated to noise reduction and the static pressure generated is lower.
This slightly atypical model is THE solution if you are betting on a reduced noise level. Its 200 mm diameter reserves it for certain cases but allows it to be limited to 19 dB while offering an airflow 1.5 times that of our best top of the range. On the other hand, the static pressure is very low, which prevents it from being suitable for systems requiring this type of fans.
The LL120 RGB is proof that you can find a model with a refined design without completely sacrificing performance. In this sense, this fan generates sufficient air flow for a good number of configurations while benefiting from RGB lighting of 16 independent LEDs, distributed over 2 circles. Their noise level, meanwhile, remains average for this type of product.
Honorable mentions
NZXT AER RGB 2: The compromise between performance and style. It operates between 500 and 1500 RPM while limiting its nuisance between 22 and 33 dB (A). The airflow generated places it between the Corsair and the Noctua with a maximum of 52.44 CFM. The design is not left out with the presence of a ring of 8 RGB LEDs around the blades.
How To Choose The Best Case Fans For Gaming PC?
Any computer worth its salt must benefit from efficient ventilation. So even if your processor has a dedicated system, it is necessary that sufficient air flow is generated in the housing to cool the other components of the system.
This is where case fans come in. When choosing, it is important to know that there are two main types, oriented towards more specific uses:
The Air Flow:

These fans are geared towards managing the ventilation of the housing while ensuring the renewal of the air contained inside. For this type of use, we focus on the CFM value which quantifies the quantity of air managed by the fan.

Static Pressure:

It determines the pressure generated by the air flow of the fan in order to cross any obstacles that may arise. It is especially decisive for the fans which will be linked to a heat sink.

watercooling

and is measured in mm H

2

O.
Once this use has been determined, you must focus on the following criteria:
Size and Speed of Rotation:

These elements affect your ventilator's ability to generate sufficient airflow. Logically, the smaller a fan, the higher its speed will have to be to generate sufficient airflow. Consequently, if you are betting on a silent configuration, it may be wise to opt for a larger template (140 mm or more) as long as your

housing

tolerates it.

Noise Level

: It is also an element to take into account when making your choice so as not to end up with a turbine in your computer. The pivotal values ​​are considered to be 20 and 30 dB. Thus, below, the model is considered silent and, above, particularly noisy… 35 dB being considered as the maximum acceptable value.

Types of Bearing:

This element directly impacts the life of the fan and, in some cases, its noise level. There are 3 types:
Sleeve Bearings:

It is the most common, the cheapest and one of the most durable but offers poorer versatility due to poorer lubrication in the horizontal position.

Ball Bearings:

This type offers great versatility while remaining affordable. It also tolerates higher temperatures. However, it is noisier than the other two types (especially at low speed).

Hydraulic Bearings (Dynamic Fluid):

This technology is based on a constant lubrication system to minimize friction. It is the quietest but also the most expensive. It is also not recommended for semi-passive systems where the fans may be confronted with regular restarts which do not allow them to provide sufficient liquid in the bearings.
Connectivity and PWM:

As with any component, make sure you have the necessary connections to connect the fan. The PWM solution is even more interesting because it allows to control in real time the speed of rotation of the fan and therefore to program different scenarios in order to benefit from an optimal cooling / noise ratio.

Electricity Consumption:

This element, secondary if you are equipped with a

food

powerful, may impact the power available to your other components and cause malfunction. Consequently, if you plan to multiply the fans, make a quick calculation taking into account the total power required for their operation to avoid any problems.

Style:

For this last criterion, we start on a much more subjective basis. Color, shape or even lighting (RGB or not) are to be taken into account if you want your configuration to be eye-catching when you contemplate it through the glass of your case.