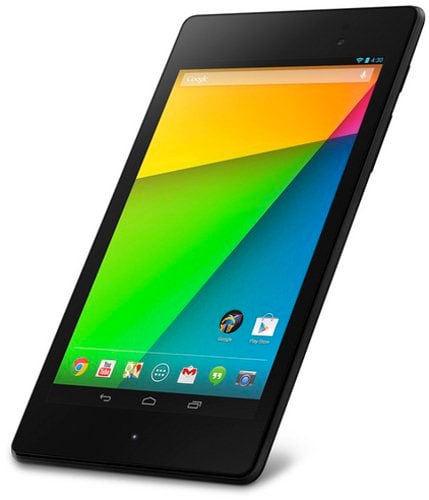 Are you looking for the best 7-inch tablet on the market with Android operating system? You don't have to look long to find the Asus Nexus 7 the Google, a tablet with tremendous features at a great price. Here in this Asus Google Nexus 7 review we will unfold everything you need to know about this tablet.
If in 2013 the Nexus 7 was already an excellent tablet, with the update of its operating system to Android 4.4 KitKat, the device has still added many more points.
The Nexus 7 is available in two versions, a with 16GB and another with 32GB, storage that can be short on some occasions since we will not have the opportunity to expand its capacity with microSD cards. Clearly Google wants us to host our files in the cloud.
Specifications
| | |
| --- | --- |
| Mark | Google Asus Nexus 7 |
| Product weight | 290 grams |
| Product dimensions | 200 x 114 x 8.7mm |
| Product model number | Nexus 7 |
| Color | Negro |
| Screen dimension | 7 inches |
| Screen resolution | 1920 x 1200 pixels |
| Processor manufacturer | QUALCOMM |
| Processor speed | 1.5 GHz |
| Number of processors | 4 |
| RAM memory capacity | 2GB |
| RAM memory technology | DDR3LM |
| Hard drive capacity | 16 GB o 32GB |
| Graphics card description | Adreno 320 |
| Connectivity type | 802.11a/b/g/n, Bluetooth 4.0, NFC, GPS |
| Operating system | Android 4.4 |
| Battery description | 3950mAh |
| Battery duration | 10 hours |
| Battery weight | 135 grams |
Design
The 2014 version looks so much better than the 2013 version, so much so that you want to take it with you everywhere. In addition, it is small and light enough so that it does not get in the way at all: 200 x 114 x 8.7mm and 290 grams.
It is completely black and on the back they have placed a one-piece casing that ends in beautiful rounded edges. It can be perfectly grasped with one hand, and it feels perfect to the touch.
It has two cameras, one back and one front, and on the right side we will find the on and off button along with the volume button. We are also going to find two speakers that are going to provide us with stereo sound, and which are located at the top and at the bottom, designed to watch movies and videos in landscape mode.
And the screen? It has a pixel density of 323ppi and a resolution of 1200x1920px (the iPad Retina has a density of 264ppi), which make images look spectacular on this tablet.
The device has a sensor that automatically adjusts the brightness based on the brightness to avoid unnecessary spending on the 3950mAh battery life (which thanks to Android 4.4 has increased significantly).
Interface and Performance
One of the good things about the Nexus devices is that we are going to find an Android "bareback", that is, no strange modifications or layers of software on top. Android and only Android 4.4.
And we will be the ones who have to customize it to our liking, avoiding the somewhat cumbersome interfaces of other tablets.
The icons are simple and well designed. Menus are simple and easy to navigate
Performance? The combination of Android 4.4 and a 1.5GHZ Qualcomm quad-core processor along with 2GB of RAM will make using the Nexus 7 a delight. Applications and games load in a jiffy and multitasking is really useful, being able to have multiple applications open without having performance problems.
All this also translates into fast and fluid internet browsing thanks to Chrome (although it does not have flash support), and the Nexus 7 is a perfect device for consuming all kinds of multimedia content (movies, games, books, music) thanks to its tremendous benefits.
Camera
The Asus Nexus 7 from 2014 has 2 cameras, a 1.2MP front and a 5MP rear.
After criticizing the 2013 Nexus for not having a rear camera, Google and Asus have decided to incorporate it into their new tablet. Obviously we will not be able to take professional photos with the Nexus 7, but they can save us from a hurry, yes, always in good lighting conditions. When we do not have good lighting, it is better to forget about taking photos.
Battery
Having gone from a 4325mAh battery to a 3950mAh one we would all think that the battery life would have worsened, but it doesn't. The conjunction of Android 4.4, along with another more efficient processor, have increased the duration, and also remove some weight from the device by putting a smaller battery. We can spend a whole day using this tablet continuously and the battery will last without problems.
We are only going to have to be careful with one thing: the more applications we have open in the background, the less the battery will last, so no getting excited and leaving 20 applications open at the same time.
Direct Competitors
Well, we have two important ones: The Kindle Fire HDX 7″ and the iPad Mini Retina.
The Fire HDX 7 ″ from Amazon also has Android as an OS, although heavily modified by Amazon to interact with its online store. The technical specifications are practically the same, and the performance is similar.
The iPad Mini Retina runs on the Apple iOS operating system, and clearly outperforms Google's Nexus 7. The big difference? The iPad Mini is quite a bit more expensive than the Nexus 7.
Conclusion
Google has done a good job with this Nexus 7 in 2014, improving a device that was already good, and putting the quality standards at a very high level for this type of Android tablets.