Gaming Laptops
AMD processors and NVIDIA RTX graphics for the Acer Aspire 7 and Spin 5 and recycled material housing for the Acer Aspire Vero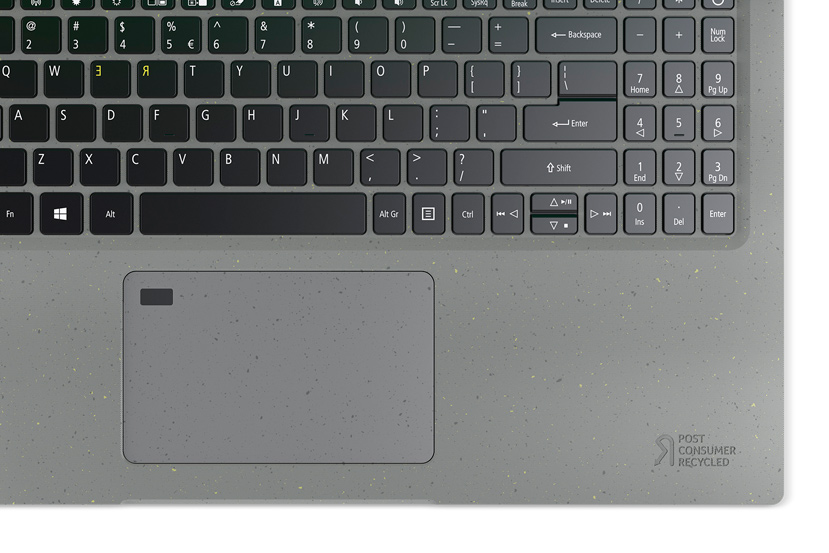 Today the Acer Next event takes place where laptops have been presented Acer Spin 5 with 360 degree hinge and now incorporates AMD Ryzen processors, the Acer Aspire 7 that adds graphics NVIDIA RTX 30 series and the new Acer Aspire Vero with the latest 11th generation Intel processors and a casing made from recycled materials.
Acer Spin 5 now with Ryzen 7 5800U processors
The Acer Spin 5 that integrated Tiger Lake processors last Acer Next 2020, now has processors AMD Ryzen 5000 Series for Laptops. It is available in two versions, with a Ryzen 7 5800U or with an 8-core and 6-core Ryzen 5 5600U respectively accompanied by AMD Radeon graphics. These processors can be accompanied by up to 16 GB of LPDDR4X memory that are integrated on the board and that are not expandable.
As hard disk for the included Windows 10 Home operating system and storage drives are offered Capacities NVMe PCIe 3, 512GB or 1TB. All this in a 1.2 kg, 14.9 mm thick case that offers a battery life of up to 14 hours.
The screen of this Acer Spin 5 is 13.5 "and has a Multi-touch IPS panel also compatible with the brand's stylus, has a 3: 2 aspect ratio that offers a 2256×1504 pixel resolution. Being IPS type we have a wide viewing angle of 170º and the best thing is that we can fold it completely to use it as a Tablet.
Delivers superior audio quality with sonido DTS thanks to its two speakers integrated in the front and the Acer PurifiedVoice and Acer TrueHarmony technologies. For our video calls we can use the two integrated microphones.
Like the Acer Swift X it has Wi-Fi 802.11 ax with MU-MIMO support and it also lacks an ethernet connector.
Acer Aspire 7 includes NVIDIA 30 series graphics
At CES 2021 they already updated the Acer Aspire 7 with AMD Ryzen 5000 series processors, but including GTX graphics, now These Aspire 7 are accompanied by the NVIDIA RTX 3050 Ti for better graphics performance. Processors can be a Ryzen 7 5700U o un Ryzen 5 5500U accompanied by up to 32 GB of DDR4 RAM memory in two SO-DIMM modules. As a disk unit we can add 256 GB, 512 GB or 1 TB of NVMe PCIe 3.0 SSD disk.
In this model we do find a connector for Ethernet networks in addition to Wi-Fi 6 AX200 with 2×2 MU-MIMO technology. It also has bluetooth 5.1. The battery lasts for up to 10 hours. For your video calls or multimedia the Acer Aspire 7 has two stereo speakers and two integrated microphones.
New Acer Aspire Vero with recycled material housing
This new model Acer Aspire Vero incorporates the latest 11th generation Intel Core processors along with integrated Intel graphics based on the new Xe architecture. The RAM memory of this new notebook is divided into a user-swappable SO-DIMM module and on-board memory. For storage we can opt for M.2 type drives of up to 1 TB PCIe.
The screen of the Acer Aspire Vero is 15.6 inches and a typical 16: 9 aspect ratio They offer a Full HD resolution of 1920×1080 pixels. Have a IPS type panel with anti-glare coating offering a brightness of 250 nits.
Regarding communications, it has an Ethernet connector in addition to a WI-FI 6 wireless connection of the AX type with the technology present in all these models 2×2 MU-MIMO, it also has bluetooth 5.1. For multimedia it integrates two stereo speakers and two microphones with exclusive technology from Acer PurifiedVoice and TrueHarmony. It is also compatible with Cortana.
The housing of this Acer Aspire Vero it is made with recycled material offering a total weight of 1.8 kg.
Pricing and availability
For the moment we do not know the release dates of these Acer laptops nor the starting price of the models, we will update with the information when we have it available.