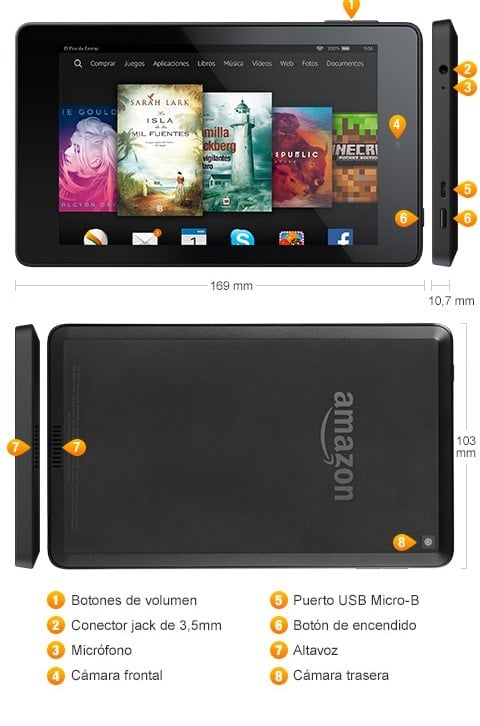 Today, there is a whole variety of tablets available in the market and online that it's hard to pick one for buying. Even the prices of these tablets does not stop falling. If you are looking for a cheap tablet on a budget then one of the options is the Amazon Fire HD 6. Here is the detailed Amazon Fire HD 6 for you so that you can decide when to buy it or not.
Amazon Fire HD 10 Features
6″ screen with 1290x800px resolution (252ppi)
QuadCore 1.5Ghz processor
8 hours of battery life
Audio: Dolby, speaker, microphone
WIFI connectivity
VGA front camera and 2MP HD rear camera
8G or 16GB storage (4.5GB or 11.6GB available to user)
Dimensiones: 169 x 103 x 10,7 mm
Weight: 290 grams
Opinion and Analysis
Is Amazon Fire HD 6 tablet the best tablet of 2022? No, clearly not, it does not have the best specifications, but for the price it is one of the best at the moment considering its value for money. The value it offers for $99 is really good.
As for the software, it has the same virtues and disadvantages if we compare it with the other Amazon tablets. On the one hand, we are facing the perfect door to buy in the largest online store in the world, Amazon, but on the other hand, the selection of third-party applications is not the best in the world.
The version of your Fire OS operating system (a kind of modified Android) that we are going to find the Fire HD 6 does not support any of the Android or iOS standards such as reminders or voice control. When you change the application we will notice a small lag and the screen is very small, so this tablet will be used for very specific things, basically to consume content (video, audio, games etc. which is just what Amazon wants to enhance to make a intensive use of its online portal.
In addition, many of the applications that we are going to find in your online store are older versions of those that we find in the Google Play Store but we return to the same, do we remember that it only costs $99.
The Fire HD 6 is quite thick at 10.7mm but it holds great with one hand thanks to its thickness, and the edge is large enough to be grasped with our fingers without touching the touch screen.
With 6 ″ of screen, it is without a doubt the minimum size that a tablet can have before becoming a 5″ phablet. Image quality is really good, 252ppi (an iPad 4 has 264ppi). Clearly Amazon has wanted to make a $99 tablet with an exceptional screen so that it is comfortable for us to read, watch videos etc.
Maybe that's why the Fire HD 6 works very well as an eReader, that is, taking into account that the battery does not last for months or that in direct sunlight we will have it more difficult to read an eBook (that's what the Kindle Paperwhite is for).
Battery life is really good! Without problems we can be using it for a full day intensively.
The cheapest model of $99 has 8GB of storage and includes the display of special offers (ads) that will be shown when you are not reading.
Conclusion
The Fire HD 6 is one of those tablets that has such a good price that it makes us forget its shortcomings. Its design is not the newest on the market and perhaps Amazon's operating system has its flaws, but how many tablets for $99 offer you that screen quality or that tremendous battery life?
The Fire HD 6 is perfect for all those who only dedicate the tablet to consume content: ebooks, movies, games and above all as the first tablet for the little ones in the house or as an extra tablet to have at home.