Gaming Laptops
ACER ConceptD laptops and convertibles are updated with Tiger Lake H processors, RTX graphics and 16:10 displays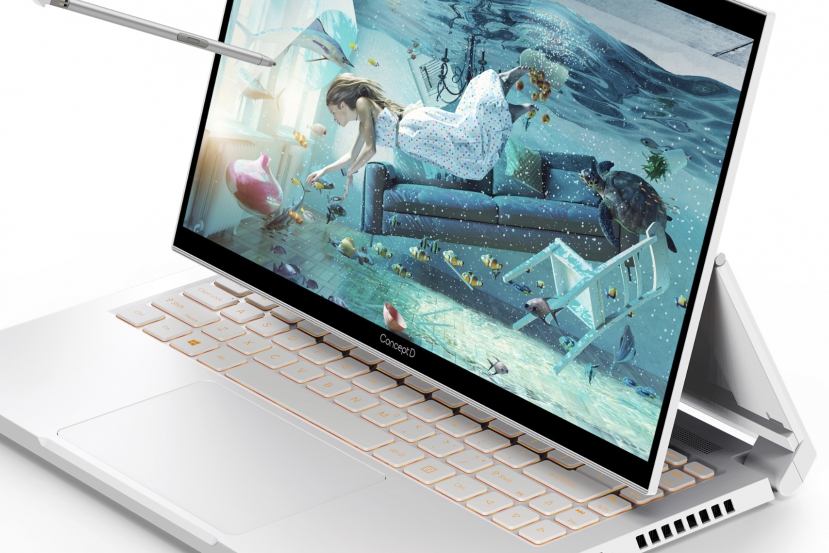 The Acer ConceptD line of notebooks is designed for content creators, including models with tilting screens and other focused features to facilitate multimedia editing of photos, videos, design and other tasks related to creating digital content. In its day we were able to test the striking ConceptD 7 Ezel, and now the company has updated the entire line of notebooks ConceptD with the new 11th Gen Intel Core H or "Tiger Lake H" processors.
There are several updated models with new processors, graphics and also 16:10 formats in some models, in total we have the new ones: ACER ConceptD 5 /Pro, ConceptD 7 Ezel/ Pro ,ConceptD 3 Ezel /Pro y ConceptD 3/Pro.
These teams have the technology SpatialLabs which is able to follow the eyes to create virtual 3D renderings on the screen.
In this way, objects can be represented three-dimensionally without the need for special glasses.
ACER ConceptD 7 Ezel and Ezel Pro: up to an Intel Xeon W11955M with RTX A5000
Starting with Concept D 7 Ezel and its Pro variant, we have a laptop with a 15.6-inch IPS screen with 4K resolution and support for 100% Adobe-RGB and sRGB color gamut with Pantone calibration. This equipment maintains the tilting screen so characteristic, which allows it to adopt different forms to use it as a laptop, Tablet, all in one and other formats.
This screen achieves a brightness of 400 nits and maintains the 16: 9 aspect ratio. In addition, it is fully tactile and supports Wacom stylus.
Inside the Pro model we find a powerful procesador Intel Xeon W11955M along with 32GB of DDR4 memory, upgradeable up to 64GB with two 32GB SO-DIMMs. Its graphics card also stands out, an entire NVIDIA RTX A5000. On the other hand, the ConceptD 7 Ezel, without the Pro tagline, will integrate processors Intel Core i7-11800H along with RTX 3080 graphics.
For Storage we have SSD units up to 1 TB M.2 PCI Express 4.0, and solutions in RAID 0 up to 2 TB. All this with a weight of 2.54 kg and 28.6 mm thick in its thickest part.
In terms of connectivity, we have WiFi 6, Bluetooth 5.1, Thunderbolt 4 of 40 Gbps.
The ACER ConceptD 7 Ezel and Ezel Pro will start at a price of 2,699 euros and will arrive in Spain during the month of October.
ACER ConceptD 5 and 5 Pro: 3K 16:10 Display and Core i7-11800H
The ConceptD 5 line and its Pro variant arrive in a more conventional notebook form factor, without the tilting screen. They adopt the 16:10 format, which years later makes a strong comeback in the computer market, integrated into a 16-inch screen with an IP panel of 3K resolution (3072 x 1920 pixels). This display covers 100% of the DCI-P3 color gamut and achieves a brightness of 400 nits.
It has small bezels that allow it to offer a screen / front ratio of 87%.
The processor of both models is el Eleventh generation Intel Core i7-11800H, It is accompanied by an RTX 3060 graphic on the normal model, and RTX A5000 and RTX A3000 graphics on the ConceptD 5 Pro variants.
Otherwise, they share support for a maximum of 64 GB of 3200 MHz DDR4 memory, RAID 0 configurations of up to two M.2 NVMe PCIe 4.0 drives, WiFi 6 Killer 1650i connectivity, Bluetooth, 2.5Gbps Ethernet, Thunderbolt 4 or USB -C and all this in a thickness of 19.9 mm and a weight of 2.4 kg.
The ACER ConceptD 5 will start at a price of 2,199 euros and will arrive in Spain during the month of July.
ACER ConceptD 3 and 3 Pro: Core i7-11800H in 14 inches
The smallest model of the ConceptD line in conventional portable format will be the ConceptD 3 and ConceptD 3 Pro. These are computers with a 14-inch screen and FullHD resolution, with a brightness level of 340 nits, touch support and 100% of the sRGB range. This screen maintains 16: 9 format
They integrate the new Core i7-11800H processors alongside 8 or 16 GB of onboard dual-channel DDR4 memory, along with up to 1TB NVMe PCIe Gen 4 SSD. The Pro variant will have an NVIDIA T1200, while the conventional model will make use of the new RTX 3050 Ti.
They share connectivity with the rest of the renewed models Thunderbolt 4, WiFi 6 and a fairly thin profile that goes from 17.9 mm to 23.9 mm in the thickest part together with a weight of 1.73 kg.
The ConceptD 3 will start at a price of 1,299 euros when it arrives in our country from September.
ACER ConceptD 3 Ezel and 3 Ezel Pro: 14 "Convertible with NVIDIA T1200
Finally, the variant with tilting screen of the ConceptD 3 comes under the name of ConceptD 3 Easel y ConceptD 3 Easel Pro. These teams maintain the 14 "IPS FullHD screen of the" non-convertible "model with 340 nits, but touch support and an integrated stylus are introduced.
The graphic part of the Pro model is covered by the same NVIDIA T1200 of the ConceptD 3 Pro, and the 3 Ezel stays with the same RTX 3050 Ti of the conventional variant. They also maintain the same thickness as the conventional model and its memory and storage options.
The same goes for connectivity, with TB 4, WiFi 6, BT 5.1. Their price will be somewhat higher, starting at 1,499 euros when they arrive in September.