Gaming Laptops
Acer announces its latest line of Swift, Spin and Aspire laptops with Intel Tiger Lake processors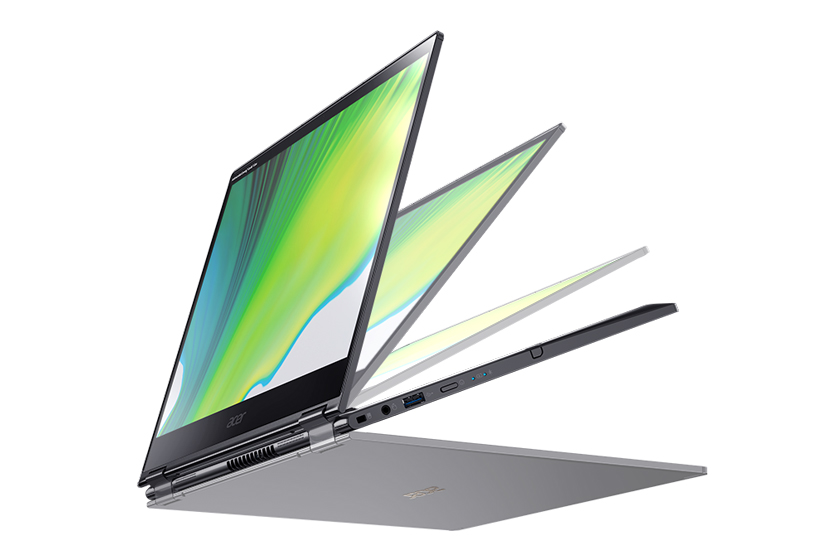 In the event that took place today under the name Next@Acer, we have been able to see new products, How would the Concept D equipment or the new TravelMate be?, but this time we will talk about the new consumer equipment, housed in the lines Swift, Spin y Aspire.
Acer Swift 3x
To begin with, we find the Acer Swift 3x, a team with 11th Gen Intel Core processors and Intel Core Xe MAX dedicated graphics, equipment designed to offer capabilities at the height of creative professionals, such as photographer o youtubers, at the same time that we have a light packaging, with a weight of 1.37KG backed by an autonomy of 17 hours and a half, in addition to a fast charging system that It allows us to recover 4 hours of autonomy in half an hour of charging.
Likewise, we find a 14-inch IPS FullHD screen with 72% coverage of the NTSC color gamut and 84% screen-to-body ratio. We also find connectivity Intel Wi-Fi 6 Gig+, USB-C, Thunderbolt 4 y USB3.2 Gen2, so we will not have any problem when working with heavy data with these computers, for example, from external drives or even wirelessly.
The Acer Swift 3X will be available in Spain from November with a price from 849 euros.
Acer Spin 5
The Acer Spin 5, winner of the 2020 Red Dot Design award, It is a convertible with a touch screen only 1.2kg in weight and 14.9mm thickr capable of housing Intel Core i7 processors and Intel Iris Xe graphics that minimizes wasted space to a minimum, something that also gives us a glimpse of some 7.78mm bezels on the sides of the Vertiview IPS screen with a 3: 2 aspect ratio and antibacterial solution that it shares with the touchpad.
Acer promotes this computer as an ideal companion for carrying out creative projects, with an 80% screen-to-body ratio and compatibility with the Acer Active Stylus with Wacom AES technology which will perfectly match its 360 degree hinge. In addition, we have 15 hours of autonomy, multiple USB-C ports certified for Thunderbolt 4, Killer 1650 Wi-Fi and front speakers.
Acer Spin 5 will be available in Spain from December 2020 with a price from 1,099 euros.
Acer Spin 3
The Acer Spin 3 falls into the same series as the team we just talked about, but it is not identical for that. Although it has Same 11th Gen Intel Core processors and Xe graphics as the Acer Spin 5, we find that the Spin 3 is a 13.3-inch convertible with a 16:10 aspect ratio that provides us with resolutions of up to 2560×1600 pixels on its 360 degree hinged multi-touch IPS panel.
As in the previous case, we come across a Acer Active Sylus with Wacom AES technology, up to 15 hours of autonomy, multiple USB Type-C ports with Thunderbolt 4 certified, Killer 1650 Wi-Fi and two front speakers, as well as two SSD units that will provide great storage speed.
The Acer Spin 3 will be available in Spain from December with a price starting at 899 euros.
Acer Aspire 5
Finally, we find a whole range of Aspire 5 laptops that will allow users to focus on the productivity they need thanks to equipment capable of multitasking. This is made possible by the 11th generation Intel Core processors. next to integrated graphics Iris Xe o Dedicated NVIDIA GeForce MX450 GPUs, so that we can even play with them when we need a break.
On the other hand, we have a FullHD IPS touchscreen with narrow bezels that provide the team with a 80% body-screen ratio. This is part of a sleekly designed chassis that also houses up to 24GB of DDR4 RAM, up to 1TB of NVME storage, and up to 2TB of mass storage on a mechanical disk. However, this sleek chassis also comes packed with great functionality, as the Aspire 5's hinge lifts the chassis off the surface where it sits and improves the listening experience as well as the ventilation of the system.
The Acer Aspire 5 of 14, 15 and 17 inches will be available in Spain from November with a price from 599 euros.